The Enforcer's Dancing Baby Page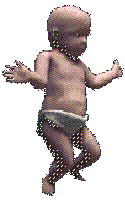 ---
Child Prodigy
This dancing baby gives one of the longest performances of any on the World Wide Web. The special effects are amazing, and the background music, Prodigy's "Breathe," makes this a miniature music video! This file is in QuickTime ".mov" format, and a QuickTime movie viewer is required.
File size: 2.25 megabytes

Play It!
---

Original Dancing Baby
The original dancing baby as seen on Fox Network's "Ally McBeal." The baby moves to the popular 1970s tune "Hooked on a Feeling," and the resolution is fairly good, although the screen is rather small. This file is in Video for Windows ".avi" format.
File size: 1.48 megabytes

Play It!
---
Several other versions of The Dancing Baby, created by 3D Studio Max and the Character Studio plug-in, may be found at:
The Unofficial Dancing Baby Home Page.
The Enforcer's Favorites