GANGBUSTERS!
State and County Take Action Against Criminal Gangs
June 18, 1998
---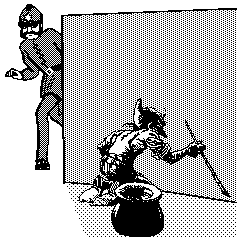 Law enforcement officers must learn to recognize gang graffiti when they see it.
---
The Ohio General Assembly recently passed House Bill 2 (HB2), also known as the Anti-Gang Bill. This new law imposes severe penalties for actively participating in a "criminal gang," and it is due to take effect next year.
Under HB2, a "criminal gang" is defined as any ongoing group of three or more persons:
Who commit certain criminal offenses as one of their primary activities; and
Who have a common name or common identifying signs, symbols, or colors; and
Who, individually or together, engage in a "pattern of criminal gang activity."
The specific offenses included in the definition of "criminal gang" are:
Any felony offense;
Any offense of violence;
Any violation that constitutes Corruption of a Minor; Criminal Damaging or Endangering; Aggravated Trespass; Failure to Disperse; Interference with Custody; Contributing to Unruliness or Delinquency of a Child; Intimidation of an Attorney, Victim, or Witness in a Criminal Case; Improperly Handling Firearms in a Motor Vehicle; Trafficking in Marihuana; or Ethnic Intimidation.
A "pattern of criminal gang activity" is established when gang members:
Commit, attempt to commit, conspire to commit, or act as complicitors in any of the offenses named above; or
Solicit, coerce, or intimidate others to participate in those offenses.
Under HB2, participation in a criminal gang will be a second degree felony. This law also creates a "gang specification" which requires courts to impose mandatory imprisonment of one to three years for committing a felony offense of violence while participating in a criminal gang.
HB2 was created in response to recent studies which show that gang members account for twice as many acts of delinquent or criminal activity as other persons in similar circumstances. But severe punishments are not enough. These findings also demonstrate the importance of establishing effective intervention programs for young people involved in criminal gangs.
The Wayne County Gang Task Force (WCGTF) was formed in November, 1997. Since then, members of the law enforcement community, the Childrens Services Board, and the probation and parole departments have met regularly with a gang specialist from the Ohio Attorney General's Office. Under the direction of WCGTF, a community reclamation program has begun. Using paint and supplies donated by area businesses, probationers will paint over gang graffiti that has been scrawled on structures throughout the Wayne County area. Since many probationers need to complete their community service obligations, Wayne County should be able to erase any future graffiti within 48 hours.
Although it may seem like a minor issue, destruction of gang graffiti is quite important. Gang graffiti can be used to:
Identify the existence of the gang;
Glorify the gang and its members;
Mark the gang's territory;
List the gang's activities;
Recruit new members; and
Challenge rival gangs.
Graffiti should not be ignored, and law enforcement officers must learn to recognize gang graffiti when they see it. Materials are available from the WCGTF which will enable officers to identify graffiti. Suspected graffiti should then be reported immediately to the WCGTF. There is a wealth of information that can be learned from graffiti including the presence of a gang as well as gang activities. It is also important that officers record the graffiti; a photograph will usually be sufficient for the purposes of the WCGTF.
Finally, graffiti should be removed as soon as it is recognized, reported and recorded. Ignoring graffiti will only permit gang activity to flourish.
---